Kayakers explore Storms River Gorge in the Tsitsikamma section of Garden Route National Park, South Africa.

13 Great Places to Enjoy Canoeing & Kayaking in Africa
Paddle through gentle waves as African penguins swim beside you. Watch colorful fish dart through shallow coastal waters. A self-powered craft offers incomparable encounters with African wildlife.
Canoeing and kayaking can be included in almost any African adventure. We offer some of our favorite canoeing and kayaking spots in Africa to inspire your travel planning. Whether you're an experienced paddler or a newbie, traveling by water is one of the best ways to see Africa!
The calm waters of the Chobe River are ideal for paddling.

Botswana
Chobe National Park
Paddle your own canoe, or take a ride in Botswana's traditional dugout canoe—the mokoro. To steer a mokoro, the operator uses a long pole that touches the riverbed. Throughout the year, canoeing along the Chobe River is an ideal way to view birds such as lilac-breasted rollers, pied kingfishers, and tawny eagles. As the waters recede in the dry season of July through September, they expose small islands and peninsulas that offer close-up views of land mammals such as zebras and red lechwe antelopes. Difficulty level: Beginner and up.
Kenya
Ewaso Ng'iro River
The Ewaso River winds through Shaba and Samburu National Reserves in central Kenya. The dry season brings calm waters and ideal paddling conditions, giving canoers and kayakers a peaceful journey through stunning savanna and desert scenery. Difficulty level: Beginner and up.
Tana River Delta
The Tana River Delta in Kenya is one of the most peaceful and breathtaking locations on the East African coast. Combining beach, river, and bush, this estuary provides a winter home to migratory birds from throughout African and Asia. Kayaking and canoeing through the Tana River Delta offers excellent exploration of incredible wildlife and inspiring scenery. Difficulty level: Beginner and up.
A bottlenose dolphin breaks the ocean's surface in the Bazaruto Archipelago.
Mozambique
Mozambique Island (Ilha de Moçambique)
The coastal waters around Mozambique's most famous island are ideal for kayaking. Calm beaches and shallow lagoons offer incredible views of colorful fish and coral. Find birds, mangrove crabs, and other wildlife with the help of your guide. Difficulty level: Beginner and up.
Bazaruto Archipelago
The Bazaruto Archipelago is an enchanting collection of small islands off the coast of southern Mozambique. Designated as a marine national park, it is known for its populations of bottlenose dolphins and dugongs—or sea cows—which you may see as they break through the waves for a breath of fresh air. Paddling the islands' inlets and small lakes is an excellent way to view birds. Difficulty level: Beginner and up.
Gorongosa National Park
The Pungwe River originates in the Eastern Highlands of Zimbabwe, flowing down to feed the lush wilderness of Gorongosa National Park. As you float along the Pungwe, you will see birds and other animals dart about reed stands, forests, and sandy beaches on the banks.
Enjoy kayaking in the clear Indian Ocean waters that surround Seychelles.

Seychelles
Sainte Anne Marine National Park
Seychelles offers amazing sea kayaking thanks to peaceful Indian Ocean waters away from major storm belts. The pinnacle of Seychelles sea kayaking can be found at Sainte Anne Marine National Park. Peer through clear waters to see colorful corals and tropical fishes, then take in the breathtaking blues of sea and sky. Difficulty level: Beginner and up.
Kayaks offer the best seat in the house for viewing African penguins at Boulder's Beach, South Africa.
South Africa
Simon's Town
A large colony of African penguins make their home on Boulders Beach in Simon's Town, a village near Cape Town. These endangered birds have unique adaptations that help them thrive in a warm climate. Spot penguins in underwater flight and encounter Cape fur seals as you paddle out past the harbor. Skim along piers full of sunbathing cormorants. Then stop at a beach to examine mollusks and crabs that populate the tidal area. Difficulty level: Beginner and up.
Storms River Gorge
Located near South Africa's southern tip, the rocky outcrops of Storms River Gorge are filled with caves that can be explored as part of a kayak tour. The trip will bring you through shallow pools and deep riverine forest. The scenery of this park near the sea is truly stunning. Plant lovers will be amazed at the diversity of trees and flowers in this part of the world. Difficulty level: Beginner and up.
Canoeing in Arusha National Park is a unique way to see wildlife.

Tanzania
Arusha National Park
The Momella Lakes in Tanzania are famous for their flamingos. Glide past beautiful shorebirds as Cape buffalos, giraffes, and waterbucks graze on land. The scenery is also impressive—you can view both Mount Meru and Kilimanjaro from your canoe. Difficulty level: Beginner and up.
Mahale Mountains National Park
Mahale Mountains National Park is a famous chimpanzee tracking destination. It is also home to the world's largest and longest lake: Lake Tanganyika. About 250 species of fish live in the lake, and most are found nowhere else in the world! You can spot many of them through the clear waters.
A kayak is also an excellent vantage point for birdwatching. Waterbirds and shorebirds are plentiful, and many songbirds nest near the shore—230 bird species in all! Difficulty level: Beginner and up.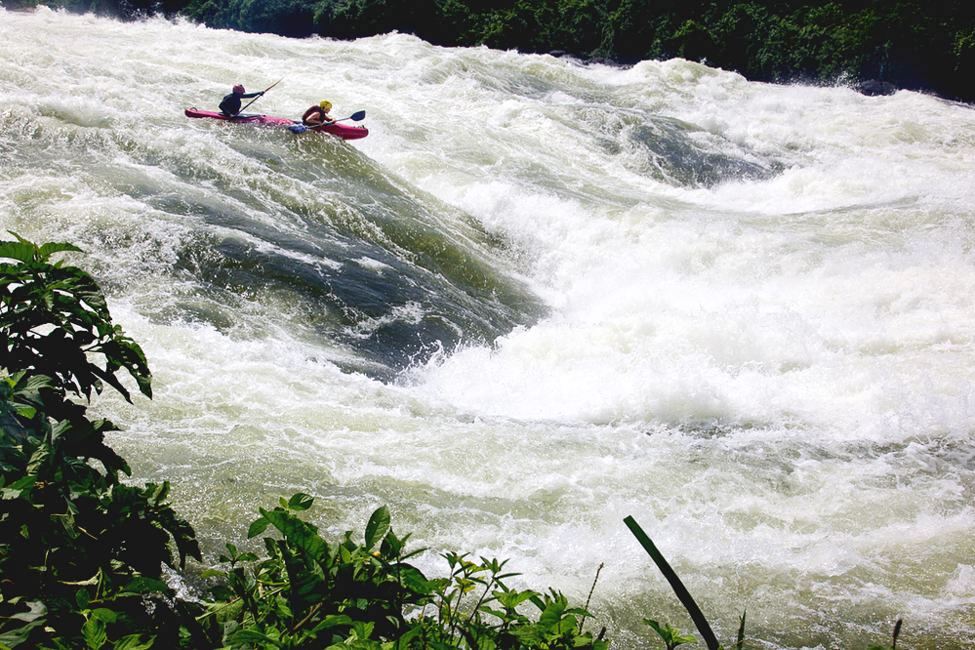 The whitecaps of the Nile River offer challenging kayaking for the adventurous at heart. Photo by Venture Uganda Travel.
Uganda
Nile River Basin
The Uganda portion of the world-famous Nile River can't be beat for heart-thumping adventure. Freestyle kayakers flock here from around the world to ride the rapids. Whitewater rafting is a popular option as well. Difficulty level: Intermediate to experienced.
Zambia and Zimbabwe
Zambezi River
Victoria Falls is known for its rushing waters. But the Zambezi River that feeds and glows out of the falls has many calmer areas, especially in the dry season. Exploring these backwaters will help you see this mighty river and its spectacular wildlife in a whole new way. Difficulty level: Beginner to intermediate.
Ready to Plan Your Adventure?
This article covered only a few of the many excellent places for canoeing and kayaking in Africa. If you are interested in canoeing and kayaking on your safari, contact Ujuzi to help you plan your perfect trip!
Sign up for the Ujuzi Newsletter! 
From top travel tips to innovative safaris and conservation movement, get INSPIRED to plan your next African safari!