Discover Botswana with Ujuzi African Travel
With close to one-fifth of its land set aside for national parks or wildlife reserves, Botswana offers matchless opportunities to encounter African wildlife. A population of up to 50,000 African elephants makes Botswana's Chobe National Park perhaps the best place in the world to view these spectacular creatures. The wetlands and lagoons of the Okavango Delta attract more than 400 bird species and 200,000 large mammals a year—from African wild dogs to plains zebras. No wonder this rare inland delta has been named one of the Seven Natural Wonders of Africa.
Top Attractions in Botswana
Chobe National Park
Tsodilo Hills
Moremi Game Reserve
Central Kalahari Game Reserve
Kgalagadi Transfrontier Park
Makgadikgadi Pans National Park
Nxai Pan National Park
Botswana Safari Itineraries
Explore the Kalahari, delve into the Okavango Delta, or sail down the Chobe River for an encounter with one of the world's only populations of hippos that come onto land in the daytime. We offer this sample itinerary to get your creative juices flowing as you dream of your upcoming trip to Botswana. Let Ujuzi African Travel work with you to create a custom Botswana travel plan that suits your dreams!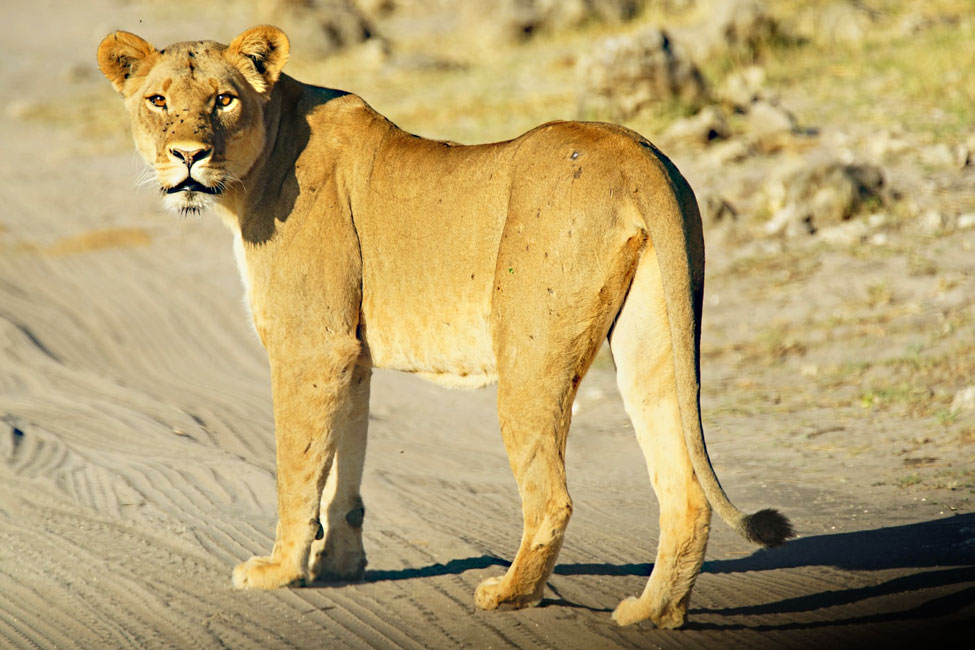 A lion crosses a road in Botswana, where animals naturally have the right-of-way in all national parks.
9-Day Best of Botswana Safari
In this adventure, you will savor the natural diversity of Botswana. Encounter vast herds of zebra and other wildlife on the Savute Channel, also known as "the river that flows in both directions," which for generations has given life to the western section of Chobe National Park. Stay on a private island in one of the Okavango Delta's permanent lagoons. These lagoons and surrounding lands are resplendent with wildlife, from diminutive endemic frogs to majestic elephants.
Finally, explore a completely different landscape at Makgadikgadi Pans National Park, which stands among the world's biggest salt flats. The mineral-rich grasses on the edges of the pan support abundant wildlife. Elephants, lions, and many kinds of antelope are easy to spot here, but don't overlook the smaller things—the park's meerkat colonies are sure to charm you.
Finally, explore the verdant riverine forests and fertile lagoons of Moremi Game Reserve in the Okavango Delta. This inland oasis attracts wildlife from hundreds of miles around, leading to spectacular sightings of hippo, leopards, lechwe antelope, and more.
An African fish eagle lands at Chobe River in Chobe National Park, Botswana.
1- to 4-Day Chobe River Botswana Safari Extension
As Botswana's flagship park, Chobe National Park has the greatest variety of animal and plant life of any of the country's natural areas. Just an hour's drive from Victoria Falls and near the borders of Namibia, Zambia, and Zimbabwe, Chobe National Park is also within easy reach of Kasane airport. So this destination can easily be added to a variety of African safaris.
A boat trip on Chobe River is a must. It typically offers intimate views of adult elephants bathing while their young ones frolic in the shallows. You'll get unmatched opportunities to spot African fish eagles, kingfishers, bee-eaters, and numerous other birds from the water. Then take to land in search of the Big 5, kudus, red lechwe antelopes, guineafowl, monitor lizards, and kori bustards. Step out of the safari vehicle for a chance to acquaint yourself with Chobe's remarkable endemic flora.
"The Smoke That Thunders" averages over 1000 m3 of water per second.
12-Day Okavango Delta & Victoria Falls Safari
The Okavango Delta is famous for its wildlife, and for good reason. Explore it to its fullest on a ten-day Botswana safari, then cap your trip off with a two-day Victoria Falls tour.
You will spend your days exploring this immense natural paradise in as many ways as you wish. Silently glide along the still waters of the Okavango Delta in a mokoro—traditional canoe—as you search for the elusive Pel's fishing owl, as well as easier-to-spot creatures like the squacco heron, yellow-billed stork, plains zebra, and lechwe antelope. Enjoy morning and evening game drives in search of oft-seen savannah creatures like elephants, giraffes, rhinoceros, brown and spotted hyenas, and African wild dogs. Take a guided walk for a closer look at the resplendent plants and songbirds that populate the Delta.
Finish your safari with two days on the Zambian banks of the Zambezi River, just upstream from the glorious Victoria Falls. You will stay at a secluded lodge far from the crowds of tourists, enjoying wildlife at Mosi-oa-Tunya National Park, a sunset cruise and, of course, a tour of the incomparable Falls.
The Victoria Falls Bridge catching the spray of the falls. The bridge connects Zambia and Zimbabwe.
12-Day Victoria Falls and Botswana Safari
Your adventure gets off to a momentous start with two days at Victoria Falls, one of the Seven Natural Wonders of the World. No words can describe the wonder you will experience when gazing at this natural beauty. And that's just the beginning!
For then it's on to nearby Chobe, Botswana's first national park and arguably its most biologically diverse. You will explore diverse areas of this vast wilderness by land and water, getting the best possible views of numerous animals that will likely include elephants at play, sable antelopes with fur as black as midnight, and lions on the hunt. In the western part of the park, vast herds of zebra can be found following the seasonal rains—and they are always followed by a choice variety of predators.
Finally, explore the verdant riverine forests and fertile lagoons of Moremi Game Reserve in the Okavango Delta. This inland oasis attracts wildlife from hundreds of miles around, leading to spectacular sightings of hippo, leopards, lechwe antelope, and more.
Need a little inspiration to get planning? Here are some of our best photos to whet your appetite for Botswana travel!
Sign up for the Ujuzi Newsletter! 
From top travel tips to innovative safaris and conservation movement, get INSPIRED to plan your next African safari!