Discover Botswana with Ujuzi African Travel
With close to one-fifth of its land set aside for national parks or wildlife reserves, Botswana offers matchless opportunities to encounter African wildlife. A population of up to 50,000 African elephants makes Botswana's Chobe National Park perhaps the best place in the world to view these spectacular creatures. The wetlands and lagoons of the Okavango Delta attract more than 400 bird species and 200,000 large mammals a year—from African wild dogs to plains zebras. No wonder this rare inland delta has been named one of the Seven Natural Wonders of Africa.
Top Attractions in Botswana
Chobe National Park
Tsodilo Hills
Moremi Game Reserve
Central Kalahari Game Reserve
Kgalagadi Transfrontier Park
Makgadikgadi Pans National Park
Nxai Pan National Park
Botswana Safari Itineraries
Explore the Kalahari, delve into the Okavango Delta, or sail down the Chobe River for an encounter with one of the world's only populations of hippos that come onto land in the daytime. We offer this sample itinerary to get your creative juices flowing as you dream of your upcoming trip to Botswana. Let Ujuzi African Travel work with you to create a custom Botswana travel plan that suits your dreams!
Safari goers in Botswana watch a meerkat family near Makgadigadi Salt Pans.
10-Day Best Kept Secrets Safari
Experience Victoria Falls like few others—from a private island in the Zambezi River! Enjoy river cruises, bird watching, and guided excursions to the Falls and Zambezi National Park.
Your stay in the Okavango Delta region is equally exclusive. You'll encounter true wilderness in the lush floodplains of Khwai Private Reserve and the moonscape of the Makgadikgadi Salt Pans, exploring through nature walks with local Zu/'hoasi Bushmen, game drives, boat rides, and more.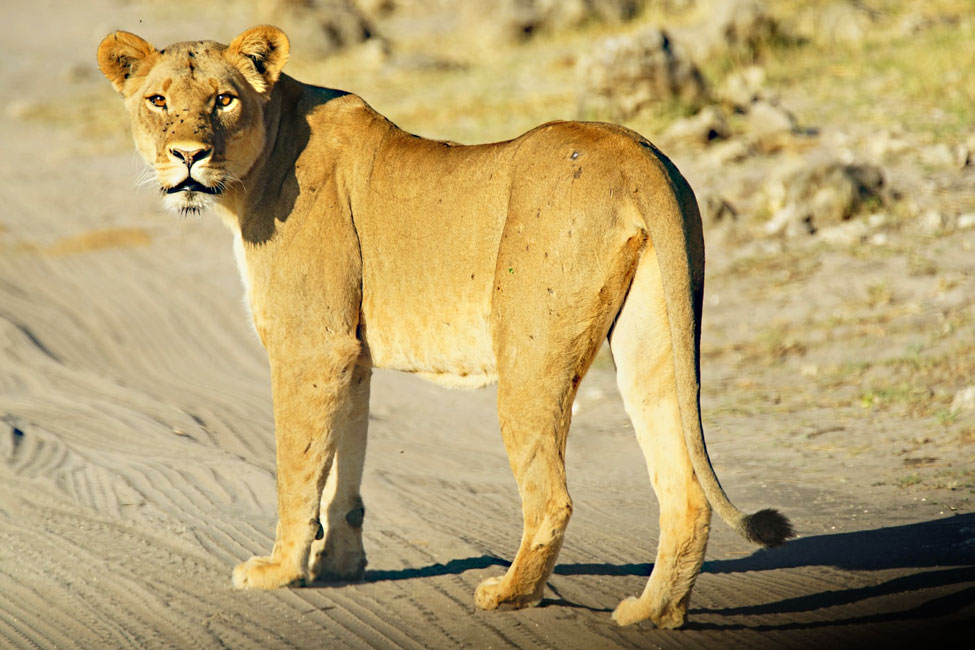 A lion crosses a road in Botswana, where animals naturally have the right-of-way in all national parks.
9-Day Best of Botswana Safari
In this adventure, you will savor the natural diversity of Botswana. Encounter vast herds of zebra and other wildlife on the Savute Channel, which gives life to the western section of Chobe National Park. Stay on a private island in one of the Okavango Delta's permanent lagoons. Finally, explore a completely different landscape at Makgadikgadi Pans National Park, which stands among the world's biggest salt flats and is home to a number of meerkat colonies.
Throughout your trip, you'll have the opportunity to see an abundance of magnificent animals—elephants, lions, giraffes, and antelopes are just of few of the creatures who dot Botswana's landscape.
African wild dogs drink after chasing prey in the Okavango Delta. Photo courtesy of Gomoti Plains Camp.
11-Day Desert & Delta Best Value Botswana Safari
Start your trip off at Victoria Falls to take in one of the Seven Natural Wonders of the World. Then it's on to nearby Chobe Riverfront in Botswana's first national park. You'll explore this vast wilderness by land and water, getting the best possible views of elephants, hippos, birdlife, and much more.
In the verdant riverine forests and fertile lagoons of the Okavango Delta, you're likely to have spectacular sightings of the Big 5 and lechwe antelopes, among others. And in Nxai Pan National Park, watch huge herds of zebras (they migrate through every December to March) and a bounty of other wildlife. The striking Baines Baobab Grove is a must see.
An African fish eagle lands at Chobe River in Chobe National Park, Botswana.
1- to 4-Day Chobe River Botswana Safari Extension
As Botswana's flagship park, Chobe National Park has the greatest variety of animal and plant life of any of the country's natural areas. Just an hour's drive from Victoria Falls and near the borders of Namibia, Zambia, and Zimbabwe, the Serondela section of Chobe National Park is within easy reach of Kasane airport. So this destination can easily be added to a variety of African safaris.
A boat trip on the Chobe River is a must. It typically offers intimate views of adult elephants bathing while their young ones frolic in the shallows. You'll get unmatched opportunities to spot African fish eagles, kingfishers, bee-eaters, and numerous other birds from the water. Then take to land in search of lions, kudus, red lechwe antelopes, guineafowl, monitor lizards, and kori bustards. Step out of the safari vehicle for a chance to acquaint yourself with Chobe's remarkable endemic flora.
Need inspiration for your Botswana safari? Whet your appetite with some of our favorite photos!
Sign up for the Ujuzi Newsletter!
From top travel tips to innovative safaris and conservation movement, get inspired to plan your next African safari!