Discover Kenya with Ujuzi African Travel
Kenya encompasses every sort of terrain, from the dramatic depths of the Great Rift Valley to the peaks of Mount Kenya. This makes it an ideal home for a diverse array of wildlife, including lions, elephants, rare Rothschild giraffes, blue-necked Somali ostriches, and critically endangered black rhinos. Kenya is also known for the annual crossing of the Great Wildebeest Migration across the Mara River, where these peaceful grazers risk life and limb to navigate crocodile-infested waters—all in pursuit of the lush green grasses of the fertile Masai Mara.
Top Attractions in Kenya
Masai Mara National Reserve
Lake Nakuru National Park
Lake Baringo National Park
Amboseli National Park
Kenya Coast: Mombasa
Kenya Itineraries
We offer these sample itineraries to provide inspiration and ideas for your own Kenya safari. They are not set in stone—when you plan your adventure with Ujuzi African Travel, we tailor your trip to suit your dreams. Choose from a multitude of lodging options—mobile tented camps, permanent tented camps, cottages, game lodges, and hotels. Ujuzi will work with you to create a custom itinerary with accommodations and activities that are the perfect fit for you.
Wildebeest gather in Kenya's Mara Triangle.
10-Day Legendary Kenya Safari
The wonders of Kenya await you on this incredible safari! You'll start out in the capital city of Nairobi, where you will visit a historical coffee plantation and interact with giraffes and young elephants at two wildlife rehabilitation centers.
From there, you will explore the elephant-rich Samburu National Reserve, the endangered wildlife of Ol Pejeta Reserve, and the vast plains of the Masai Mara, which hosts more than a million wildebeest, zebras, and antelopes as part of the Great Migration.
Top off this safari with an optional three night extension in the tropical beach paradise of Zanzibar. Read the itinerary. »
Experience Masai Mara National Reserve.
9-Day Wildlife & Beach Kenya Safari
This 9-day sample itinerary allows you to deeply explore areas of Kenya rarely included in cookie-cutter safari packages. Spend your days immersed in wilderness and evenings relaxing in luxurious safari camps, all while supporting community-based conservation efforts in a very real way.
First, you will visit the world-famous Masai Mara National Reserve and its adjacent community reserve, where millions of wildebeest annually cross the Mara River in search of greener pastures. Thereafter, head toward the Indian Ocean to explore biodiverse sand dunes and wetlands under the stewardship of the Orma and Pokomo tribes in the Tana River Delta.
An elephant strolls through Kenyan grasslands.
9-Day Big Game Walking Safari—Kenya
With over 600,000 acres available for walking, the Masai Mara National Reserve is a fantastic place to see the Big 5! Spend your days far from roads and safari vehicles as you leisurely trek across vast, open savanna.
Your morning walks will give you intimate views of wildlife while also taking you to your next camp; walking is completed before the hottest part of the day begins. Senses that have been dulled by years of life indoors will sharpen as you develop a deep relationship with your surroundings.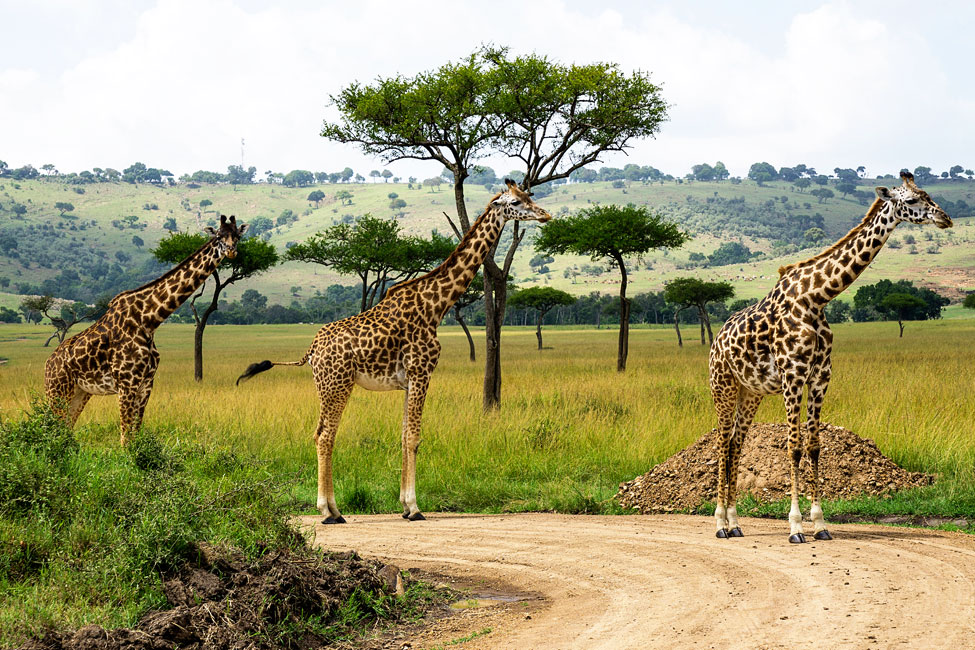 Masai giraffes are the most abundant giraffe subspecies in Kenya.
13-Day Adventure Safari—Kenya
Here is an adventure for the person who wants to experience as much of Kenya as possible. Start with a Nairobi tour, where you will learn about conservation efforts and get up-close views of animals giraffes and elephants at two wildlife rehabilitation centers, the Giraffe Centre and the Sheldrick Orphans' Project. Then embark to the wilds!
This sample itinerary includes a variety of national parks and wildlife reserves to offer the best chance at seeing most of Kenya's large animals: Samburu National Park, Aberdare National Park, Lake Baringo, Lake Bogoria, Lake Nakuru, Amboseli, and the famous Masai Mara National Reserve. Here is your chance to see lions, leopards, cheetahs, elephants, rhinos, and so much more!
Need a little inspiration to get planning? Here are some of our best Kenya photos to whet your travel appetite!
Sign up for the Ujuzi Newsletter! 
From top travel tips to innovative safaris and conservation movement, get INSPIRED to plan your next African safari!