Discover Rwanda with Ujuzi African Travel
Rwanda is a flourishing country of lush mountainous terrain, giving it the moniker "Land of a Thousand Hills." Ancient volcanoes tower above surrounding foothills, their rich soil giving life to emerald-green canopies. Home to endangered mountain gorillas and rare golden monkeys, Rwanda's rainforests have a truly magical air.
Care for the environment is an integral part of the Rwandan ethos, tangible both in its remote natural areas and its bustling cities. The capital, Kigali, is the first city in Africa bestowed with the United Nation's Habitat Scroll of Honor Award in recognition of its cleanliness, security, and commitment to conservation.
Top Attractions in Rwanda
Mgahinga National Park
Golden Monkey Trekking

Nyungwe Forest National Park

Kigali Genocide Museum & Memorial

Huye Mountain Coffee Tour

Akagera National Park
Rwanda Safari Itineraries
Visits with mountain gorillas, golden monkey treks, birdwatching, and orchid tours are just a few of your Rwanda travel options, along with traditional safari activities like tracking elephants and giraffes. Let these sample itineraries provide inspiration for your own Rwanda safari—then contact Ujuzi African Travel for a trip tailored to your dreams!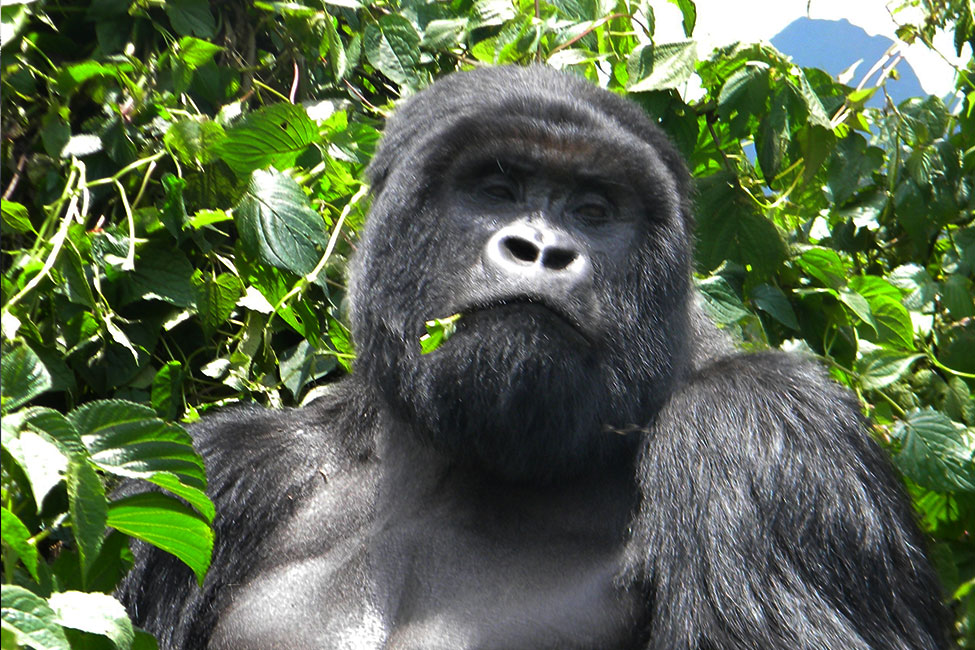 A mountain gorilla enjoys his lunch at Volcanoes National Park, Rwanda.
Gorilla Trekking Rwanda Safari
Rwanda's Volcanoes National Park is one of the few places on earth where humans still have the opportunity to encounter our evolutionary cousin, the endangered mountain gorilla—and it can easily be reached through air and land transfer from most African countries. Ujuzi African Travel is happy to arrange a short or extended stay in Rwanda to any safari itinerary.
On your gorilla trek extension, you will spend one to three days at a comfortable lodge on the edge of Volcanoes National Park. Each morning, you will wake up early to meet your guide and trek into the mountains to find mountain gorillas in their forest home.
Learn more about what a transformative visit with Rwanda's mountain gorillas could look like.
Rare golden monkeys are easily recognized due to the colorful patches on their faces and backs.
10-Day Nature and Culture Rwanda Safari
On this Rwandan safari, you are likely to spot giraffes, zebras, many of the Big 5, and a diverse number of primates. Nyungwe Forest's thriving troop of Ruwenzori black-and-white colobus is the largest community of monkeys not just in East Africa, but the entire continent. And beyond being home to mountain gorillas, the Virunga Mountains on Rwanda's northwestern border are the only place in the world to see the endangered golden monkey.
With its mix of mountainous terrain, rainforest, and savanna, Rwanda is a delight for birdwatchers. You will have unparalleled opportunities to spot some of its 670 avian species.
This sample Rwanda safari itinerary connects you with Rwandan culture through visits to historical sites, villages, and the chance to make classic Rwandan dishes with a local chef. Contact us for a Rwanda adventure designed just for you!
Need a little inspiration to get planning? Here are some of our best Rwanda photos to whet your travel appetite!
Sign up for the Ujuzi Newsletter! 
From top travel tips to innovative safaris and conservation movement, get INSPIRED to plan your next African safari!