Discover Rwanda with Ujuzi African Travel
Welcome to the "Land of a Thousand Hills." The lush mountainous terrain of Rwanda, with ancient volcanoes towering above surrounding foothills, is home to endangered mountain gorillas, chimpanzees, and rare golden monkey. Rwanda's emerald-green rainforests have a truly magical air.
Care for the environment is an integral part of Rwanda's ethos. The capital, Kigali, was the first city in Africa to receive the United Nation's Habitat Scroll of Honor Award for its cleanliness and commitment to conservation.
With its mix of mountainous terrain, rainforest, and savanna, Rwanda is a delight for birdwatchers. Grab a good pair of binoculars and take advantage of unparalleled opportunities to spot some of its 670 feathered species.
Top Attractions in Rwanda
Golden Monkey Trekking

Nyungwe Forest National Park (World Heritage Site)

Kigali Genocide Museum & Memorial

Huye Mountain Coffee Tour

Akagera National Park

Gishwati-Mukura Forest National Park

Rwanda Safari Itineraries
Visit with mountain gorillas, search for golden monkeys, enjoy incredible birdwatching, and admire Rwanda's many native floral species—the country is particularly known for its orchids. Plus, enjoy traditional safari activities like viewing elephants and giraffes.
Let these sample itineraries provide inspiration for your own Rwanda safari—then contact Ujuzi African Travel for a trip tailored to your dreams!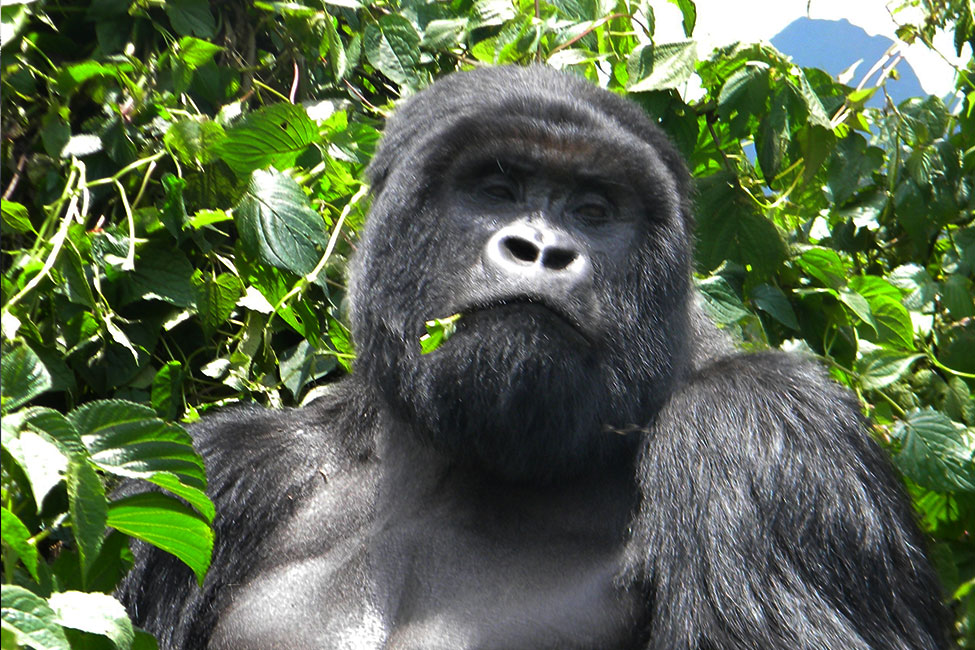 A mountain gorilla enjoys his lunch at Volcanoes National Park, Rwanda.
Gorilla Trekking Rwanda Extension
Rwanda's Volcanoes National Park is one of the few places on earth where humans still have the opportunity to encounter our evolutionary cousin, the endangered mountain gorilla—and it can easily be reached through air and land transfer from most African countries. Ujuzi African Travel is happy to add a Rwanda gorilla trek extension to any safari itinerary.
On this sample gorilla trek extension, spend one night in Kigali acclimating to the higher altitude, then two nights at a comfortable lodge on the edge of Volcanoes National Park. Enjoy a memorable day trekking into the mountains to spend time with mountain gorillas in their forest home. The next morning, watch endangered golden monkeys at play in the bamboo forest.
On game drives in Akagera National Park, you have the chance to see giraffes, lions, elephants, and much more.
12-Day Rwanda Treasures Safari
With its diverse topography of rolling green mountains, shimmering lakes, and golden savanna, Rwanda is home to a mix of animals you'll find in few other countries—from antelopes to great apes to zebras. Get a chance to see them all in this special safari that takes you to three very different national parks.
You'll start at Akagera National Park, with its Big 5 safari animals and a whopping 500 bird species! Then it's on to Nyungwe Forest, where you'll look for chimpanzees and 12 types of monkeys. Cap off your trip with a visit to Volcanoes National Park to encounter another great ape: the endangered mountain gorilla.
Nyungwe Forest, a World Heritage Site, is home to 317 bird species—like this Jackson's crimson-wing—and is the only place in the country to see chimpanzees. Photo by G.R. van de Weghe.
9-Day Primates, Birds, and More! Rwanda Safari
See apes, monkeys, and more on this Rwandan safari to two of the nation's most primate-rich forests: Volcanoes National Park and Nyungwe Forest, a UNESCO World Heritage Site.
At Volcanoes, track mountain gorillas and follow the footsteps of groundbreaking primatologist Dian Fossey. Then look for colorful golden monkeys on the volcanoes' lower slopes. In Nyungwe Forest, you'll track chimpanzees, walk above the treetops on Nyungwe's Canopy Walkway, and explore the lush greenery for colobus monkeys and endemic birds.
Rare golden monkeys are easily recognized due to the colorful patches on their faces and backs.
9-Day Mountains and Plains Rwanda Safari
On this Rwandan safari, you are likely to spot a plethora of wildlife including giraffes, zebras, lions, elephants and, of course, mountain gorillas.
At Volcanoes National Park in the Virunga Mountains, look for mountain gorillas and the endangered golden monkey—this is the only area in the world where both live. Then visit Akagera National Park, a gorgeous reserve of open savanna and lush lakes. It's home to the Big 5 safari animals and so much more.
Need inspiration to get planning? Whet your travel appetite with some of our favorite Rwanda photos!
Sign up for the Ujuzi Newsletter!
From top travel tips to innovative safaris and conservation movement, get inspired to plan your next African safari!