4 Countries You Must See in East Africa 
Home to the Serengeti and the Great Wildebeest Migration, East Africa is the iconic safari destination.
Boasting all the Big Five—elephants, rhinos, lions, leopards, and Cape buffaloes—it is also the only place in the world where you can find mountain gorillas, East African wild dogs, and numerous species of rare and endangered monkeys, galagos, chameleons, and birds.
East Africa is a landscape of contrasts, with open savannas, dense jungles, and gently sloping volcanoes. This is thanks to the Great Rift Valley, a chain of mountains, gorges, and lakes that runs from Ethiopia to Mozambique.
Rich with human history, East Africa is the birthplace of the Swahili language. Human culture itself may have begun here—some of the earliest human fossils have been found in East Africa's rocks.
Adventures abound in East Africa. Whether you are looking for spectacular wildlife, cultural wonders, or breathtaking scenery, these four East African countries have unforgettable experiences in store for you:
Zebras wander through Masai Mara National Reserve, Kenya.
Kenya: A Must-See Country in East Africa
Kenya's 49 national parks and reserves cover every sort of terrain: deserts, grassy plains, forests, mountains, lakes, and coral reefs. Kenya is dedicated to protecting its indigenous flora and fauna, and it sets new conservation areas aside regularly.
Wildebeest mill about on a road in the Serengeti.
Masai Mara and the Great Migration
Possibly Kenya's most popular safari destination, the Masai Mara becomes an extraordinary spectacle during the annual Great Wildebeest Migration. Each October through July, a deluge of wildebeest, zebras, and gazelles arrive here for prime grazing.
The drama of the migration reaches its height at the Mara River, where crocodiles lie in wait for any creatures that show signs of weakness. But gentler moments of mothers nursing newborns and young animals learning to play are also plentiful.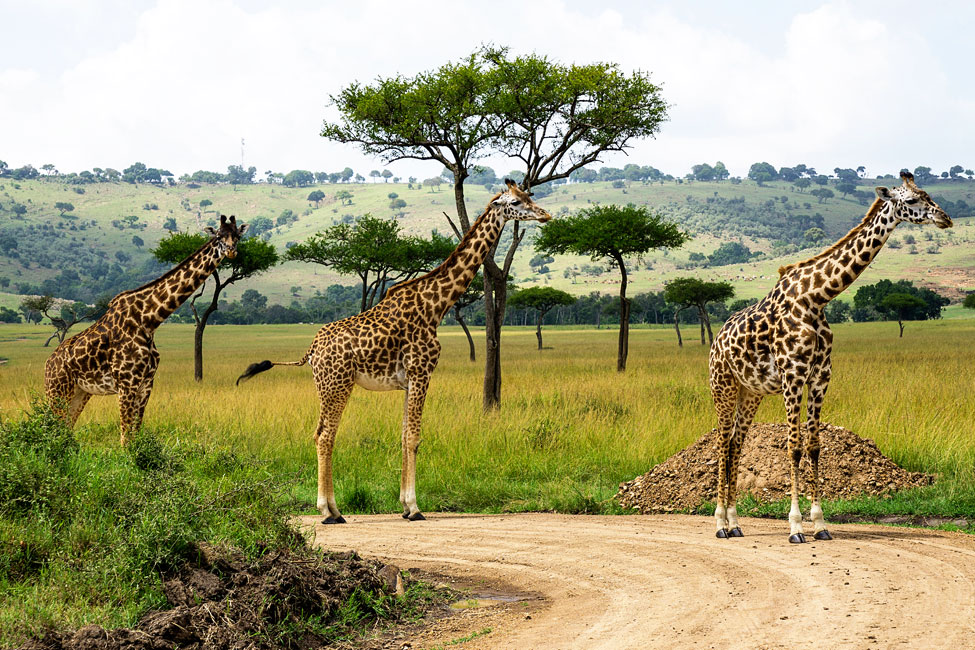 Giraffes line up for a photo in the Masai Mara National Reserve, Kenya.
Kenyan Wildlife
Apart from the Great Migration, Kenya offers an extraordinary density of animals year-round. All three large African cats—lions, leopards, and cheetahs—live here. So do elephants, zebras, common and Somali ostriches, hippos, giraffes, spotted hyenas, and a wide variety of antelopes and gazelles.
Animals unique to Kenya include hirola antelopes, Taita tree hyraxes, Mount Kenya hornless chameleons, and Tana River red colobus monkeys. A total of 1,089 bird species, 99 of which are raptors, can be found in Kenya.
Maasai herders are often recognized by their colorful clothing. Photo credit left: Rod Waddington/Flickr, right: Davida De La Harpe/Flickr.
Kenyan Culture
Kenya has more than 40 ethnic groups speaking 60 languages. English and Swahili are the most widespread.
The largest ethnic groups are the Kikuyu, Luhya, and Kalenjin, while the pastoral Maasai of the south are recognized throughout the world for their colorful clothing, especially red, pink, and blue shúkà wraps. Recent anthropological discoveries at Lake Turkana, near Kenya's northern border, have illuminated the origins of humankind.
White Sand Beaches
Kenya combines stirring safaris with a fabulous Indian Ocean coastline. Mombasa, Watamu, Diani, Malindi, and Lamu are just a few of Kenya's premier beaches, offering a tranquil post-safari haven.
Giraffe parent and calf browse in the Serengeti, Tanzania.
Tanzania: Two East African Countries in One
Tanzania's wonders include towering volcanoes, paradisiacal islands, and a variety of animal life. Formed in 1964 from the nation of Tanganyika and its island neighbor Zanzibar, Tanzania brings together a diversity of cultures and natural treasures.
Tanzania's renowned Northern Safari Circuit includes Lake Manyara, the majestic Ngorongoro Crater, and the 5,700 square miles of Serengeti National Park. But there is even more to this fascinating country, from sumptuous beaches to the snow-capped Mount Kilimanjaro.
Tanzanian Wilderness
Throughout most of the year, a herd of more than 1 million wildebeests and zebras occupies the Serengeti, following the rains for fresh grass as part of the Great Migration. They exit the park for only a few short months around August to October, when they head across the northern border to the Masai Mara in Kenya. This Great Migration is one of the Seven Natural Wonders of the World.
The wildlife of nearby Ngorongoro Crater are just as impressive, with diverse animals like giraffes, black rhinoceroses, elands, blue monkeys, gray-crowned cranes, and waterbucks. This plentiful game has led to one the world's densest lion populations! This unique part of Africa has been named a World Heritage Site.
In southern Tanzania, Katavi National Park attracts thousands of elephants and Cape buffalo during the dry season. It also supports Tanzania's densest concentrations of hippos and crocodiles. Another wonderful place to search for these creatures is the Rufiji River, which flows through 175 miles of Tanzania's best scenery before emptying into the Indian Ocean.
Tanzanian People
With its 120 ethnic groups and 128 living languages, Tanzania is the most culturally diverse of the East African countries. The official languages of English and Swahili enable communication between people of different mother tongues.
Like Kenya, Tanzania has deep roots in prehistory. The past is recorded in the stones of Olduvai Gorge, where ancient tools and human fossils abound. Scientist Mary Leakey made this site world-famous with the discovery of Australopithecus boisei in 1959.
Learn more about travel in Tanzania.
Dhow boats dot the beautiful white sand shorelines along the Indian Ocean in Zanzibar
Double Your Adventure in Zanzibar
Complete your Tanzanian journey with a visit to the spice islands of Zanzibar, where coral and starfish in crystal-blue waters await your arrival. Stroll the streets of centuries-old Stone Town, admire the Arab-influenced architecture, and taste the spices that made this region famous.
For amazing wildlife viewing, delve into Jozani Forest on the main island. It is home to endemic red colobus monkeys, Sykes monkeys, galagos, Ader's duikers, and more species of butterflies than you can point your camera at. The island of Changuu teems with giant tortoises, while the islands of Unguja, Pemba and Chumbe offer some of the best diving in the Indian Ocean.
Meet the people, track the elusive mountain gorilla, and come face to face with a magnificent elephant—experience Uganda. Mountain gorilla photo courtesy of Uganda Wildlife Authority.
Uganda: The Pearl of East Africa
Uganda is where East African savanna meets Central African jungle.
Where else but in this enchanting country can you observe lions under an acacia tree in the morning, cruise down the Nile in the afternoon, and the next day journey into lush rainforests to track chimpanzees?
With 28 national parks, protected areas, and wildlife sanctuaries, Uganda offers a safari experience like nowhere else.
Encountering one of these gentle giants in the Ugandan forest is well worth the effort of a mountain gorilla trek!
The Mountain Gorilla
Deep in the misty green wilderness, you may meet the rockstar of Uganda: the mountain gorilla. About half of the world's 1,000 remaining mountain gorillas dwell here in Bwindi Impenetrable National Forest, a World Heritage Site. Several more live in nearby Mgahinga Gorilla National Park.
The parks allow a limited number of travelers each year to track these amazing creatures with the help of expert guides. Staring deep into the eyes of these endangered apes will be a time-treasured moment and not easily forgotten.
Learn more about mountain gorilla tracking.
A chimp baby relaxes with an adult family member in Uganda; Photo Credit: Charles Steinburg
Meet the Chimpanzees
Chimpanzees are easier to find than mountain gorillas. Excellent places to encounter them include Kibale Forest National Park and Kyambura Gorge in southwestern Uganda, Murchison Falls National Park in the northwest, and Ngamba Island in Lake Victoria, near Entebbe.
Rafting the Nile River is an adventure not meant for the faint of heart!
Exploring the Nile
The Nile River begins in Uganda, coursing north through the country from its source near Lake Victoria. Crossing miles of varied terrain, the Nile will give you a perspective on Uganda like no other.
At Murchison Falls National Park, relaxed boat cruises provide a great opportunity to observe animals as they come down to the water's edge to drink. The Nile supports the largest concentration of hippos and crocodiles in Africa and a dazzling variety of water birds, including the rare shoebill. The views of the Murchison Falls as you approach by boat are spectacular.
Near the source of the Nile River on Lake Victoria, the city of Jinja is affectionately known as the "Adventure Capital of East Africa." A rafting adventure on this world-famous river isn't for the faint of heart. But it is an unforgettable, once-in-a-lifetime experience for those who want the bragging rights of rafting the Nile!
Other Ugandan Highlights
Uganda's flora and fauna are incredible. The Albertine Rift is a biodiversity hotspot, and Lake Victoria has one of the world's highest concentrations of endemic fish. More than one thousand bird species have been identified in Uganda.
In the lowlands of Queen Elizabeth National Park, you can observe hippos and elephants bathing in the Nile or glimpse a leopard napping in an acacia tree. Head over to Murchison Falls National Park to navigate the shores of Lake Albert delta, a pristine inland delta where you're likely to encounter giraffes, lions, antelope, Cape buffaloes, and countless varieties of birds.
The people of Uganda are equally fascinating. Wherever you go, take time to explore the local cultures. Learn forest survival skills, visit a coffee farm, cook traditional meals, or listen to elders tell stories of their people.
Whether you're a first-time traveler or a veteran of African travel, a safari to Uganda will always be rewarding.
The incredible landscape of Rwanda provides a lush environment for many species of wildlife. Photo credit: VisitRwanda
Rwanda: East Africa's Land of a Thousand Hills
Rwanda is a fraction of the size of the other countries listed here but is breathtaking in its biodiversity. Its endless mountains are clothed in luxuriant forests that conceal an abundance of life, including 670 kinds of birds.
Hidden among the trees of Volcanoes National Park are the animals Rwanda is most famous for—gentle, giant mountain gorillas and stunningly beautiful golden monkeys.
To the south, Nyungwe National Park's nearly 400 square miles comprise the largest montane rainforest in Africa. At least 86 mammal species, 278 bird species, and dozens of amphibian and reptile species are found here—and many of them are unique to the Albertine Rift.
Mountain gorillas socialize in the forests of Rwanda. Photo credit Johathon Wisner /Flickr
A golden monkey gazes from a tree in Volcanoes National Park in Rwanda. Photo credit Visit Rwanda
A Primate Paradise: Mountain Gorillas, Golden Monkeys, Chimpanzees, and More
In Volcanoes National Park, mountain gorillas live in family groups of about eight to 40 individuals. Like humans, mountain gorillas depend on each other for safety and emotional well-being. Parents, aunts, and cousins work together to care for the younger generation. It is a truly moving experience to watch a mountain gorilla family at work and play.
Visiting mountain gorillas may be the most popular reason to visit Rwanda, but it's not the only one. Another primate, the golden monkey, is another irresistible attraction.
Golden monkeys live only in the Virunga mountain range along the Rwandan border with Uganda and the Democratic Republic of Congo. They travel in groups of 3 to 60 individuals and are very active during the daytime. You will easily recognize them, thanks to the striking golden patches on their fur!
Want to see even more primates? Nyungwe Forest National Park boasts 13 primate species! They include chimpanzees, blue monkeys, L'Hoest monkeys, owl-faced monkeys, and gray-cheeked mangabeys. Here, Ruwenzori black-and-white colobus have prospered to become the largest primate community in all of Africa.
Breathtaking Natural Landscapes
Best known for its montane forests, Rwanda also features rich marshes, shimmering lakes, and rugged grasslands. At Akagera National Park, a concerted effort has been made to rehabilitate nature. Lions and black rhinos have been reintroduced, and elephants, zebras, topis, hippos, impala, and giraffes abound.
Which country will you explore?
Do you want to feel the earth shake beneath you as you watch 1,000,000 wildebeest on their Great Migration? Is sitting within feet of a mountain gorilla on your bucket list? Do you fantasize about rafting down the Nile or diving among coral reefs in the blue waters of the Indian Ocean? Or maybe you want to summit Mount Kilimanjaro?
Make memories that will last a lifetime. Ujuzi African Travel creates personalized safaris with the destinations and accommodations you want. We can include one, two, or all of these East African countries in a custom itinerary just for you. Contact us today, and we will help you make the most of your trip to East Africa.
Pin This Post & Save for Later!
Sign up for the Ujuzi Newsletter!
From top travel tips to innovative safaris and conservation movement, get inspired to plan your next African safari!