What is a Game Drive? Plus 5 Things to Know Before You Go
The cool, crisp air of a savanna morning blows through your hair as your guide steers the 4×4 over a hill. You watch a group of bright yellow weaverbirds attending to their nests in a nearby acacia tree—they're so colorful you don't need binoculars to see them, but you pull out your pair for a closer look. All of a sudden, you hear a sharp intake of breath and a single, whispered word: "Leopard!"
You turn around and there it is, several yards in front of the vehicle, relaxing on a streambank: one of Africa's most majestic wild cats in all its spotted glory. The leopard is more beautiful than you ever imagined. You almost forget to breathe.
Game drives are the highlight of most African safaris. They allow you to get unparalleled views of African wildlife by bringing you deep into untamed areas that would be difficult to explore by foot.
This article explains what a game drive is, the types of vehicles used in game drives, who can go on a game drive, what to bring on a game drive, and wildlife protection and game drives. And of course, we'll give you a glance at some of the many animals you can see on a game drive.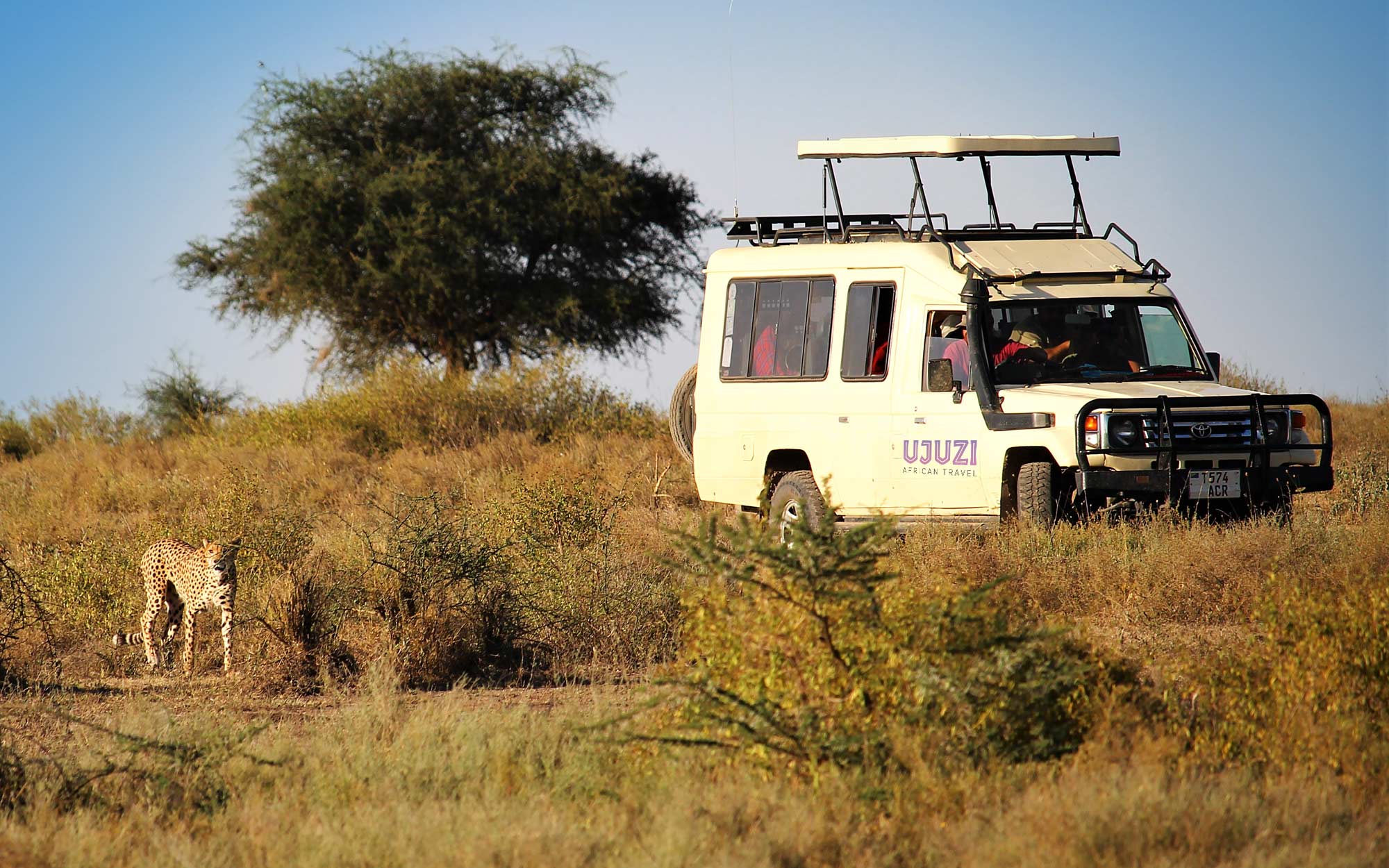 Safari goers watch a cheetah at Maasai Mara National Reserve, Kenya.
What is a game drive?
A game drive is an excursion through wild areas to find some of Africa's most iconic and elusive wildlife. It is led by a certified naturalist guide who is familiar with the wildlife area and can lead you to amazing sightings. You may also be joined by a tracker who specializes in "reading" natural signs—like broken branches or marks in the dirt—to find animals.
Game drives are timed for when animals are most active. Typically, this means leaving your lodge or camp for a 2-4 hour game drive beginning at sunrise. You will return to the lodge for lunch and relaxation, followed by another game drive late in the afternoon as temperatures begin to cool. Night game drives in search of nocturnally active creatures are an option in some areas, and usually last 1-2 hours.
Enjoy a spectacular view on a game drive in an open-air vehicle with stadium seating.
What types of vehicles are used in game drives?
Depending on the country and terrain, game drives are conducted in 4×4 vehicles or minibuses with seating for 5 to 12 individuals, including the driver. In South Africa and Botswana, the vehicles are typically open at the top. Passenger seats are often "stadium style"—each row is a little higher than the one in front of it, so your view won't be blocked by the head of the person in front of you.
In East Africa, open or canvas topped vehicles may be used on private reserves. National parks usually require that safari vehicles are enclosed. They can include minibuses, particularly in Kenya, or enclosed 4x4s. Both generally come with a sunroof or pop-up top to increase the range of view. At Ujuzi, you will always get a window seat, so you don't have to worry about a blocked view.
Rhinos, elephants, and giraffes dot the African savanna.
What can I see on a game drive?
Almost everything wild Africa has to offer can be seen on a game drive, from the tiny birds to majestic elephants. All of the photos in the gallery below were taken on Ujuzi game drives. 
Who can go on a game drive?
Game drives are one of the most accessible safari activities, appropriate for a variety of ages and fitness levels.
What should I bring on a game drive?
You don't need to bring anything but yourself on a game drive. Water is provided in the vehicle, and the guide usually has a guidebook or two to pass around—not that you will need it, thanks to their expertise.
However, most travelers like to have a pair of binoculars for viewing smaller or more distant wildlife. Consider bringing a camera or cell phone for recording some of the wildlife you see. Dress appropriately for the weather and bring extra sunblock if you will be spending more than two hours in an open vehicle.
What steps are taken to protect the land and wildlife from game drive vehicles?
Only certified driver-guides can operate game drive vehicles. These guides have a deep knowledge of and respect for nature. The ethics of their profession require them to drive carefully around wildlife, limiting their speed and avoiding any maneuvers that may cause stress to the animals. Game drives take place predominantly on designated tracks to avoid damage to plant life, and most national parks prohibit off-road driving. On some private reserves, drivers may go off these tracks in search of wildlife. If a game drive needs to go off-road, the guide will search for areas with more resilient soil and avoid going over the same area twice to minimize impacts. To get the best of both worlds, consider visiting both public and private lands on your safari. 
Madikwe Game Reserve, South Africa. Photo credit: South African Tourism
Care for animals and nature always come first. If the choice is between stopping a vehicle close to an animal and stressing it, or stopping the vehicle a bit farther away, the guide will choose the latter. Even so, you will be amazed at the intimate views of wildlife you can get from a game drive vehicle.
Game drives also play a huge role in protecting wildlife. Park admission fees provide much-needed money to conservation efforts, and the presence of guides and safari-goers in a wild area discourages poaching. Going on a safari is a great way to support preservation of some of the world's most beautiful wild areas.
Pin This Post & Save for Later!
Sign up for the Ujuzi Newsletter!
From top travel tips to innovative safaris and conservation movement, get INSPIRED to plan your next African safari!