Why the Giraffe Centre in Nairobi is Worth a Visit
Imagine looking right into the enormous eyes of the world's tallest animal. At the Giraffe Centre in Nairobi, Kenya, you can do just that!
A sanctuary for the endangered Rothschild giraffe, the Giraffe Centre is fun for all ages. Here, you can gaze into the big eyes of resident giraffes from a second-story viewing platform. And if you're lucky, you may even get a "kiss of life"—the polite term for having your face licked by one of these friendly giants.
Rothschild giraffes once ranged over much of East Africa from South Sudan to the Democratic Republic of Congo. But today, they live only in Kenya and Uganda. Just 120 Rothschild giraffes lived in the wild in 1979, the year the Giraffe Centre's parent organization, African Fund for Endangered Wildlife, began its work. Thanks to the Giraffe Centre's breeding and conservation efforts, more than 300 Rothschild giraffes now live in five different areas of Kenya.
Rothschild giraffes have five ossicones, or bony projections, on their heads. The single central ossicone is on the forehead, the paired antler-like ossicones are above the ears, and a pair of small bump-like ossicones are behind the ears (partially visible). Did you also notice the mud on this giraffe's neck and the bird—an oxpecker—resting in its mane? Photo by Bernard Dupont.
What Are Rothschild Giraffes?
Rothschild giraffes are a rare subspecies of giraffe, and one of three types of giraffe living in Kenya. The other two Kenyan giraffes are Masai giraffes and reticulated giraffes. All of them are endangered.
One thing that separates a Rothschild giraffe from other giraffes is the number of ossicones, or "horns", on its head.
Most giraffes have a single pair of ossicones right between their ears. A few giraffe subspecies have a third, smaller ossicone in the middle of the forehead.
But Rothschild giraffes are born with five ossicones!
Rothschild giraffes also have two-toned spots, while most giraffes have spots that are just one color. The edges of the Rothschild giraffe's spots are rust-colored. The centers are dark brown and get bigger with age.
Another giraffe subspecies from Kenya, the Masai giraffe, also has two-toned spots. But the Masai giraffe's spots are brown-on-brown.
Finally, Rothschild giraffes don't have any spots at all on their lower legs. They look like they're wearing white knee-socks!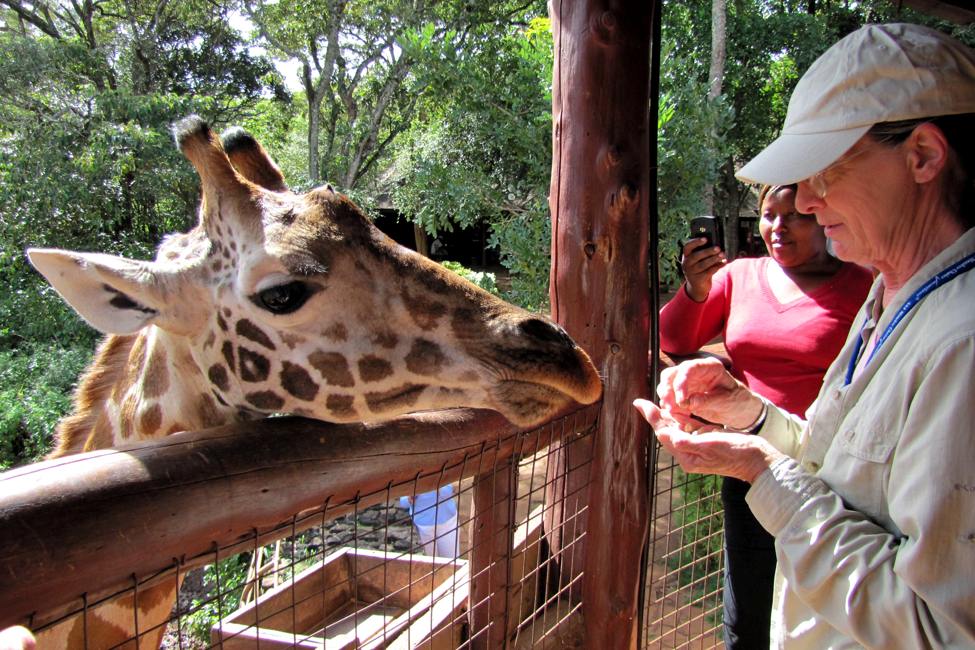 A visitor feeds a giraffe; close-up of a Rothschild giraffe's spots, by Maciej; two giraffes on a walk, by Kurt Thomas Hunt; two giraffes touch haunches—the giraffe equivalent of a hug—by Kurt Thomas Hunt; the fence keeps visitors on the trail, but this giraffe can easily step over it; a close-up of a giraffe's snout.
What Is a Visit to the Giraffe Centre Like?
For many people, interacting with a giraffe is the highlight of a visit to the Giraffe Centre. While most of the center's giraffes are kept apart from the public as part of the rehabilitation process, there are a few permanent residents who cannot live in the wild due to disability. These naturally gregarious creatures enjoy interacting with visitors and will often eat food straight out of visitors' hands!
At the Giraffe Centre, you can learn all about giraffes and the various giraffe subspecies—there are nine giraffe subspecies in Africa, with three in Kenya. Attend a presentation by one of the center's educators, or simply ask questions of staff—they're eager to share their knowledge!
The center attracts diverse visitors, including international travelers, families, and Kenyan schoolchildren. Educating Kenya's children about wildlife is a core mission of the Giraffe Centre. Field trips to the center instill a lifelong appreciation for Kenya's natural resources, and are made possible by donors from around the world.
A young visitor to the Giraffe Centre receives the Kiss of Life. While many giraffes have completely blue tongues, this one's tongue is pink on top and blue on below. Photo by Jorge Láscar.
Getting the "Kiss of Life"
If you'd like to feed a giraffe, go to the second story of the visitors' pavilion. An educator will give you tips and provide you with some giraffe kibble.
Enthusiastic giraffes often reward their feeders with a friendly lick—also known as the "kiss of life" because natural chemicals in giraffe saliva can help fight bacteria and clean wounds. These chemicals help giraffes' tongues heal quickly if they get cut while eating one of their favorite plants—the thorny acacia tree.